Jeffrey runs operations for Mastodon Ventures, OzRey- a national investment and operating firm focused on a range of innovative restaurant, hospitality and commercial real estate developments. Prior to OzRey, Jeffrey was a Lead Expansion Manager for UberEATS. He was a member of the inaugural product launch team and was then responsible for launching UberEATS across North American markets. Jeffrey also co-founded a gifting startup in Austin, LoopandTie.com. He has spent time in LA focused on business development for Sony Pictures and started his career in Finance at Jefferies Investment Bank in NYC.
Jeffrey attended UT Austin, graduating from the Business Honors Program. He is a past rider and board member of Texas 4000 for Cancer and currently lives in Austin with his wife Haylie, their son and 2 dogs.
What organizations or cause areas are you currently involved with?
There are a number of organizations based in Austin that I've been closely connected to throughout the years. In college, I rode my bike alongside other UT students from Austin to Anchorage, Alaska with Texas 4000. I later spent 5 years serving on the board as the finance chair helping the organization strive to achieve their mission of cultivating student leaders and engaging communities in the fight against cancer.
I also share my love of music as a volunteer for KLRU and Austin City Limits, as it brings me great joy to help make live music experiences more accessible to Austinites.
And finally, my wife and I have supported Urban Roots for the last 3 years as we connect deeply with their mission to use farming to transform the lives of young people while nourishing the community.
If you could wake up tomorrow and one world or community problem would be solved, which problem would it be and why?
I've always subscribed to the belief that one should think globally, but act locally. While many of us consider ourselves lucky to live in a city as wonderful as Austin, we do face a number of real challenges as a community. Given my passion and background in food, it astounds and deeply concerns me that nearly 25% of children in Travis County are considered food insecure. The one problem I would solve for is childhood hunger in our community. Why? At a fundamental level food fuels us, sustaining the bodies and brains we rely on to maintain a level of well-being required to function and contribute to society. This is particularly crucial for growing children on whom we all count to be the next wave of innovators and dreamers in Austin. This issue is something that can be solved by the triangulation of community involvement, self-sufficient food growing, and food education / access to healthy food - topics that all interest me.
In what ways can Austin's corporate sector be better equipped to support local nonprofits?
Participation. I am a strong believer in the power of one...and then how that can be multiplied across many to strengthen impact. The Corporate Sector in Austin has a unique opportunity to lead by example and encourage participation in civic pursuits amongst their employs. The cause supported is of no importance. The method in which an employee decides to participate is of no importance. What matters is that they do something. By taking the stance that community involvement is part of a company's culture (...and perhaps even expectation?) we can leverage the time, energy, dollars and intelligence of Austin's employees to build a better Austin.
Get Involved with Urban Roots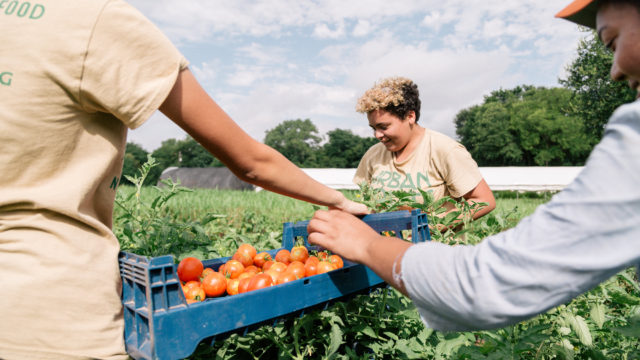 Urban Roots is a farm-based youth leadership community in Austin that uses food and farming to empower and engage youth in the community with hard work, healthy living, and civic engagement. Since Urban Roots began in 2008, 288 young leaders have graduated from the Farm Internship Program, 288,601 pounds of produce has been harvested, and 235,000 servings have been donated to 12 different hunger relief organizations.

Want to get involved? You can volunteer on the farm! Contact volunteer@urbanrootsatx.org if you have any questions and check out the volunteer days to learn more.
Buy fresh veggies for a great cause! Urban Roots grows approximately 45,000 lbs of food every year, donating 40% to charity and selling the rest to the Austin community. Check out the Urban Roots booth at the Farmer's Market so you can eat UR veggies and support an amazing program!